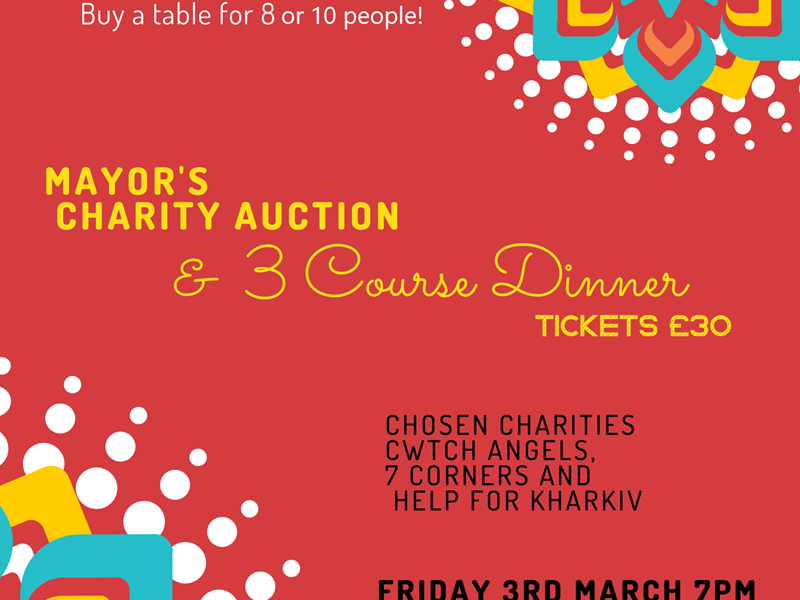 Charity Dinner and Auction Evening 
Friday 3rd March 2023
Mayor Cllr Tony Konieczny will be hosting a Charity Dinner and Auction Evening on Friday 3rd March 2023 at the King's Arms on Nevill Street, starting with a 3 course dinner from 7pm.  Tickets for the evening are £30pp, and there are tables of 8 or 10 available.
Lots will then be available to bid on from local businesses and artists, including a limited edition print from Jeremy Thomas, paintings from Louise Collis and David Haswell, vouchers from Extons, Casa Bianca, and Anatolia's, a Le Creuset Mug set from Cook's Galley, and a J'adore Perfume and body cream set from Shackletons.
Monies raised from the auction will be awarded to the Mayor's three chosen charities – 7Corners, Help for Kharkiv, and Cwtch Angels.
To book your ticket please email clerk@abergavennytowncouncil.gov.uk and a banquet menu will be sent to you for your menu choices. 
***UPDATE: the date to book and purchase tickets has been extended to Friday 24th February 2023. ***